In this day and age, wherein most Businesses are moving forward at such a dynamic pace, invoices are created regularly and require custom workflow. Freelancers require a way to generate their invoices at lower maintenance with not many hassles.
Today, let us visit some of the best open source solutions available online and compare them with themselves and with the better features.
A Truly One-Stop Free Accounting Software for Small & Medium-sized Businesses
Akaunting is a free, open-source one-stop accounting solution for small, medium-sized businesses and freelancers. It has a global reach with a sizeable audience. It has a complete one-stop solution software suite making it one of the applications that top the list of apps here. Everything you need to manage your web accounting. Keep track of all of your payments, invoices, expenses, etc. in one place with zero fees.
The platform offers features that help you manage cash flow, track all the expenses, and create quotations and invoices. Moreover, you can create transaction categories.
It also provides a client panel, wherein customers can log in to the portal to track and share the transactions and invoices, and make payments.
Akaunting is available in more than 50 Different languages and boasts more than 270,000 users as its base, making it the most popular open-source solution.
Akaunting Positive Points
Complete One Stop Solution
Multiple options for using the platform
Secure & Open Source.
Multi-Lingual.
The entire platform is installed onto a VPS or Shared hosting and can be made available online, accessed from anywhere. The platform is responsive and you can access it from any desktop, mobile, or tablet.
Akaunting Negative Points
Lags in the Support Department
Not as user-friendly as other software.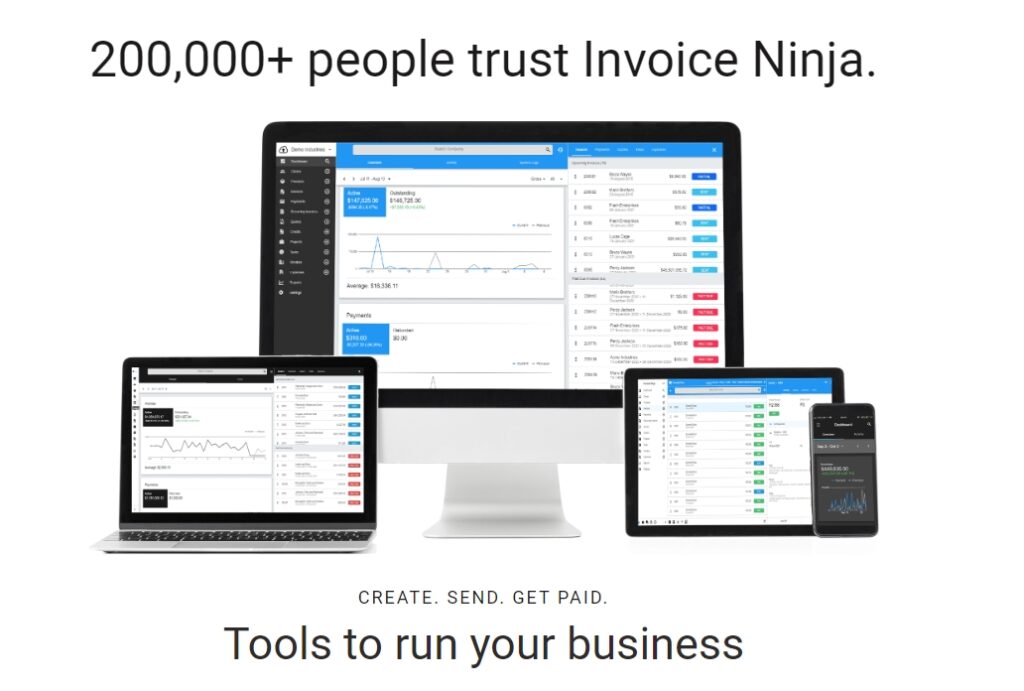 Invoice Ninja is another gem that stands out among other software. It is a self-hosted invoice management system for small, medium-sized businesses and enterprising freelancers. It is completely built with PHP and uses several NPM packages.
It is a complete Invoicing application with features of deposits, Partial Management, Reminders, auto payments, Notifications/alerts, Real-Time PDF Creation, and Advanced taxation with multiple currencies.
Invoice Ninja has pro and enterprise editions that contain several features not found in the community edition.
InvoiceNinja Positive Points
One-Stop Solution for all your Invoicing Requirements.
Multiple options for using the platform
Secure & Open Source.
Trusted and Multi-Lingual.
Custom Design of Invoicing Reports.
InvoiceNinja Negative Points
The enterprise version has more features than the community edition