What Is Google My Business?
Every other day we are used to a feature while we search without even minding the technology behind it is Google My Business (GMB). We search for a specialist or a business and at the tip of your fingers are the list of business and specialists along with all of their contact details. Did you ever think about your business or specialization be featured on the same platform where you search other services for? To mention and display your information isn't that difficult at all. But before you list it out over there, it is very important to understand the technology behind it and how everything is put together in its place.
Remember YellowPages or Phone Directories, those bulky looking book sitting at the side of your coffee table and phone. Which used to be the first point of reference to look for a business or a specialist. Surely they do exist till this date. But gone are those days wherein people still look into them when they have their mobile devices on their hands. Those things had a lot of drawbacks as below.
1) The updates of new business listings used to be monthly, quarterly or yearly. So you have to subscribe and get a new directory after each update.
2) Finding the locations and geographical information of the business was simply not possible.
3) You cannot review a company or find testimonials of the same.
4) Searching and Scanning through the directory was a tedious task.

So with the internet getting popularity these bulky directories got turned into Online directories and Google my Business (GMB) is one of them, rather very successful.
Google My Business is a free listing tool provided by Google wherein a business can list out its field of specialization and attract customers which they have access never before. This service can be used by Local Business, National Business, Field Specialists, Brands and Local Service Providers like plumbers, carpenters, drivers etc.
Google my Business directly increases the visibility of your business by letting themselves shown across multiple businesses that google provides, Some listed as below
Google Search Organic Ranking (Very Important)
Google Maps
Local Business Finder
Google Local Pack
These days online mobile and computer users start depending more on Google to find the answers to their everyday requirements and questions. Google My Business plays a very important part of their everyday life for discovering new services, products, business and people.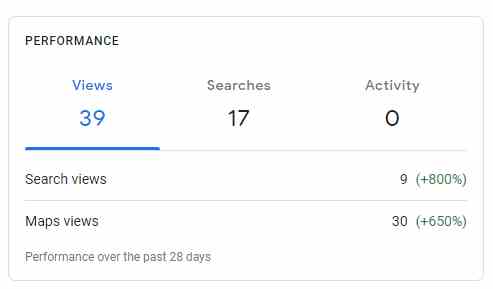 Below are some noteworthy points as to why you should consider Google my Business for your Business.
1) It's Important for Search Engine Optimization (SEO)
Believe it or not Google my Business gives a great boost to your websites Search Engine Optimization and can help you land on the top of the organic search results. Ever tried to google up a Business name? Just below the results of the ads, You would see a list of 3 Businesses (Local 3 panel) with all the contact details within the same relevant category, name and details. If you optimize your business correctly your business will be listed over there. The local 3 panel as it is called shows the most effective three search results. The more information you provide to google such as your website URL, Contact details, Business details and describe them completely about your business or specialization, the better you will be ranked to be displayed on that panel.
2) It provides with features that no other product readily & currently has to offer.
If your business has no website, Google My Business Listing can be as your mini-website showing up all your contact details and other essential information. The Customers that review for your service and business can directly leave the reviews then and there. The features that google has given until now and continues to provide is beyond any other directory listing websites out there. Google My Business even provides features for prospective customers to ask questions about your business. Which can be answered by you and that can be accessed by all of the future the search users. The best part of all this is, it is seamlessly in sync across all the devices be it big or small.
There are certain features that are available in some of the countries, wherein the Business admins can start communication directly from the listing itself. It gives a bigger window of opportunity in capturing your customer's attention and business.
Then we can say about Google Posts, you can promote your business by providing offers and sales discounts. You can upload images about upcoming events and advertise them with a CTA button.
Google My Business comes out with new features nearly every month. You can keep yourself updated to the latest features and news at The Official Google My Business Community.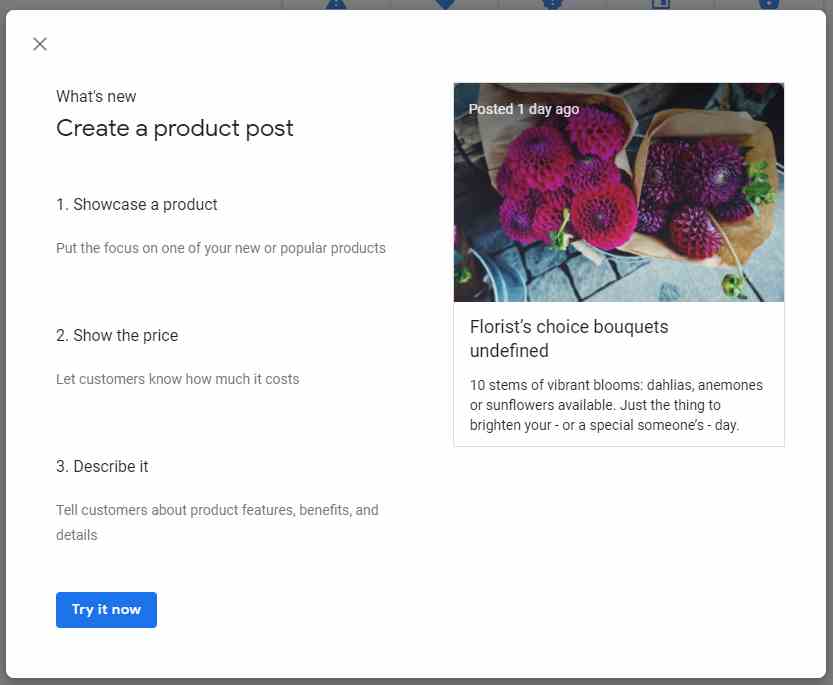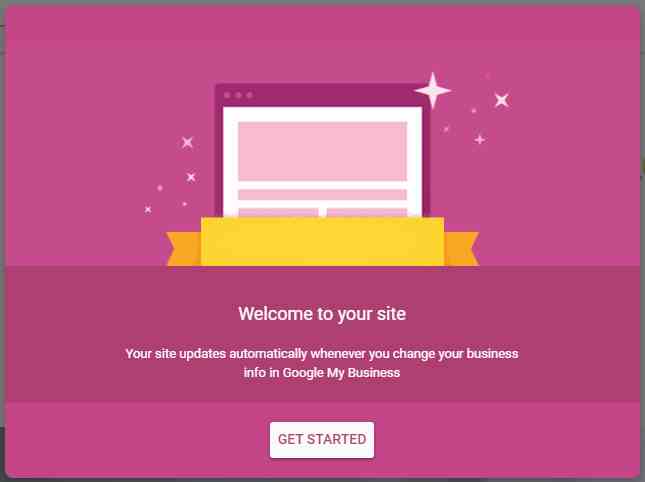 3) Visible Analytics for your Business to measure your growth.
'Insights' features that Google my Business provides you is next to none. With the click of a button, you have all the information to make decisions on your Business and build a strategy. You can completely come to know what, when and how of your customer's activity in relation to your business search results. You would know how they found you and where they came from. Where all the places in your listing have been clicked at. Which ads or events you had promoted did get the most number of views. How many calls did you receive from customers.
Insights is a tab inside of your Google My Business and you could find all of your analytical data over here. You can select a type of analysis and every data it has collected will be shown as graphs and charts for easier understanding. Visibility, engagement and audience types are the main sections. All this makes it easier to drill down your data and plan a strategy based on it. Giving you more business opportunities and tactics to target more customers in a better and informed way.
4) Increase the scope of communications for your Business.
Communications play a very important role in any business in order to prosper. Google My Business simply adds in 2 more communication channels. The first one by providing an opportunity for asking questions and where you can answer them and get a lead. The second one being able to directly connect with your customers within the listing, but this feature set is limited to certain counties as of now.
The rest of the communication channels i.e. your Contact Details, location details are always visible on the listing, thus covering you as a business on all fronts.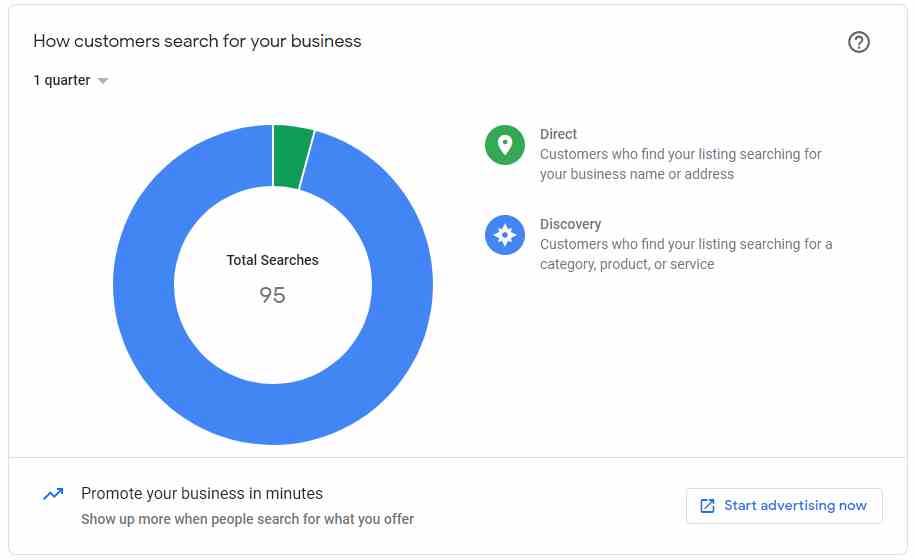 5) Very Cost Effective way to promote yourself and easy to maintain.
Essentially Google My Business is free to list for any type of business big or small. You can list and update all your details constantly and regularly. But in order to maximize the potential of your listing, you can hire an agency experienced at listing so that everything is as accurate as possible and perfect. There are various sources, websites and agencies where you can list your business and might come at a cost, but Google My Business is a direct feature of google and lot of people use Google as their go-to search engine and showing up yourself on their platform at no extra cost give your business a big boost.
Now at this point, you would say "Deepak! enough of your information or advertising google my business. All I need to know is how do I create the listings". So let us get started.
All the above was information related to the essentials and features provided by Google My Business. Now let us get into creating the listing itself and start your business promotions.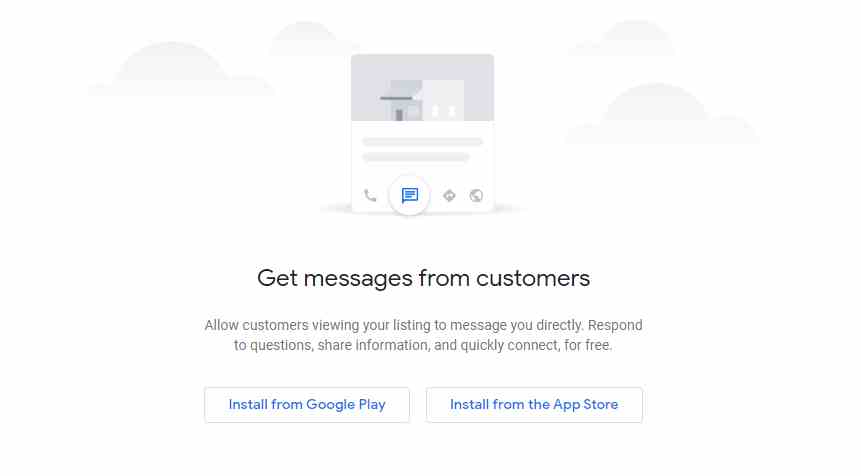 How To Configure It Correctly?
10 Easy Steps to create your Google My Business Listing.
Sign in here (https://www.google.com/business/) Google My Business. Click Start Now.
If you have a Google Mail (give Gmail) account for your specific business, you can use the same or create a new account. You can use your personal Gmail email address if you don't want to maintain separate emails. But that is just all up to you. Click 'Get on Google' if you don't have an account or 'Sign in' if you already have an account.
Sometimes your business might show up on searching your business name and address. This might be due to your popularity and tags that you might have received all along till date. IF it shows up you can just claim the business by creating a profile for your Business. Tick the right checkbox in order to claim your business and you authorize for the claim. If your business doesn't show up on the listing you can start creating your listing by clicking on 'None of these match'.
Please note, that to maximize the potential of your listing follows all the instructions provided by google correctly. Fill in all the business information such as the name, address, contact numbers (NAP) details, Operational hours of your business, E-Mail address, Website URL address, etc. Provide incorrect categories for your Business & Services offered. Select the category from the drop-down boxes. There are several categories for a single business, Be specific and search for the exact match. Once you are satisfied with the entered information click on Continue.
Thus with the above your Google My Business profile and account is created. In order for the actual verification of your Business and location, in some countries google will send a verification postcard, which might take 1 to 2 weeks to arrive. Further instructions will be mentioned on that so you can verify your business and authorize it.
Upon completion of verification of your Google My Business Lisitng, Google will open up the options to access all of it tools. You will be able to access your reviews on the page and you can respond to those queries.
Google tools will also allow you to add your Youtube account, Analytics accounts and social media accounts.
After this you can start adding your company portfolio images, Logo of your Business and all the details / provided services / description of your company.
You can click on 'Done Editing' when you feel all the details are perfect and good to go.
If you are professional service chances are there you might not access to a physical location or you do not want to display your personal house for your business. In this case, You have to mention yourself as a Brand rather than a Local Business. Just select 'Brand' under the "Choose Business type." and enter in your website URL address. The rest of the configurations remains the same as above.
Businesses Big or Small need to get to Google My Business, unless they are pretty sure that they do not require visibility. It will give a guaranteed boost to their brand as a whole and make it easier for their customers to reach and communicate with them.