Solution: Prolific PL2303 Phased Out Since 2012. The Device Cannot Start (Code 10).
Did windows just kill your Favourite USB connector drivers?
We work with a lot of electronics on the side. While onto one of our projects, we had to update our machine to a new Windows 10 and snap, our favourite USB connector cable gave upon us. The message was even sadder than the wait for the update to finish and to get back to working with our tools. 
"Prolific PL2303 Phased out since 2012. Please contact your supplier", or more to be precise "THE PL2303HXA" was the message being yelled at us from our monitor display. At first, we were clueless as to what happened to the cable. Did the cable break? or did Windows 10 gave upon the drivers. Will we be ever able to get back to our work? 
We started our research on this and No, it's not from windows but seems to be more from the Prolific Team itself behind the message.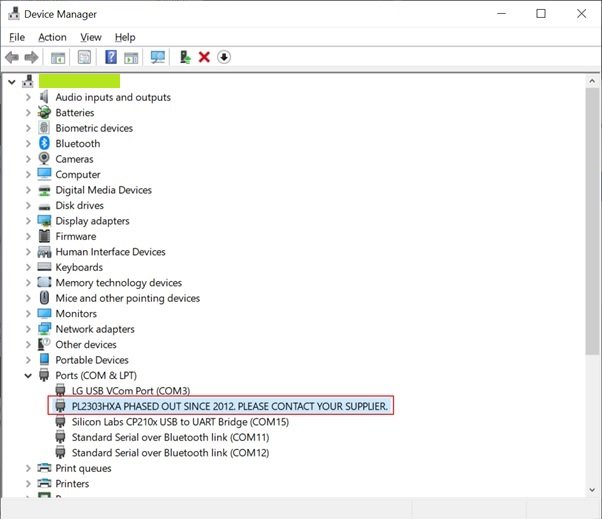 We Solved it, and its an easy fix. 
The message was clear, it said it has been phased out in 2012 while we see this message in 2020. Where we all sleeping from the past 8 years (apart from 2020 where we all had good sleep I guess). 
More on our research pointed out there are several versions or look-alikes / copy cats / counterfeit (use as per your liking) of PL2303 are flooded out in the market, and Prolific just wanted to give us all a warning shot. Saying "Hey you are using Illegal stuff. Please buy the original cables only from us". 
We just went ahead, Right clicked on the Port and clicked on "Uninstall device". Then we unplugged the device and Put it right back and let windows install the drivers automatically. 
Hurray! the message disappeared. But the issue was far from over. Now we have got a strange warning sign in from of the port number. Everything with the proper name and port number but still with the warning sign. Is it trying to warn us again about the device still being illegal and fake.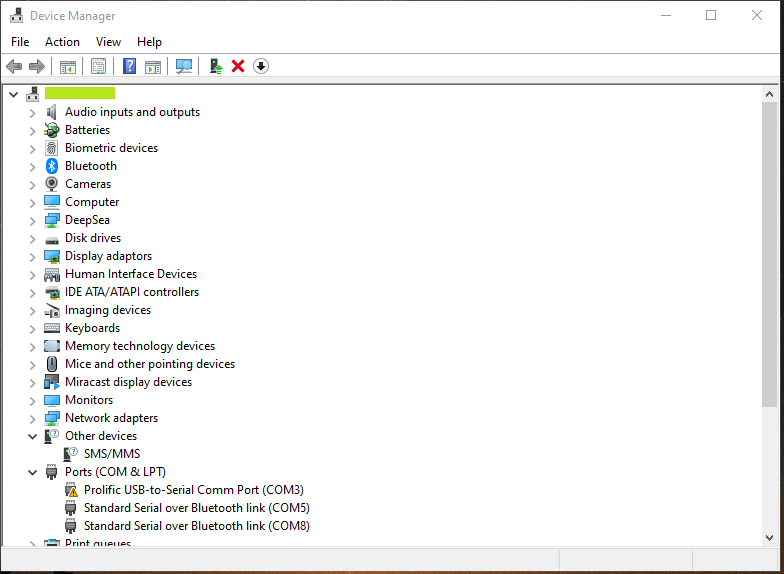 We right clicked on the Port again and this time we drilled down inside of the properties window, to get to the depth of our research.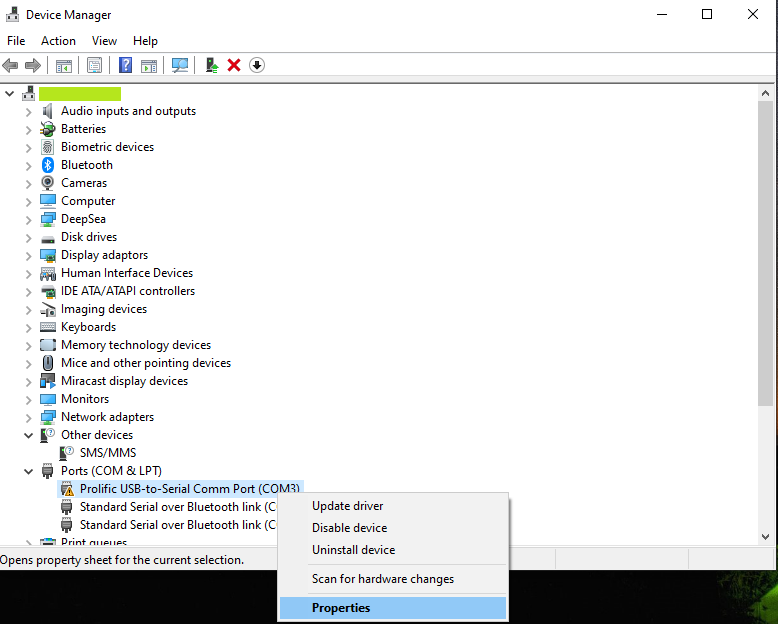 Now we saw that the error was a different one and displayed us, "This device cannot start. (Code 10) A device which does not exist was specified". This error message was a strange one as it had found the device but seemed unspecified hardware and was unable to start up.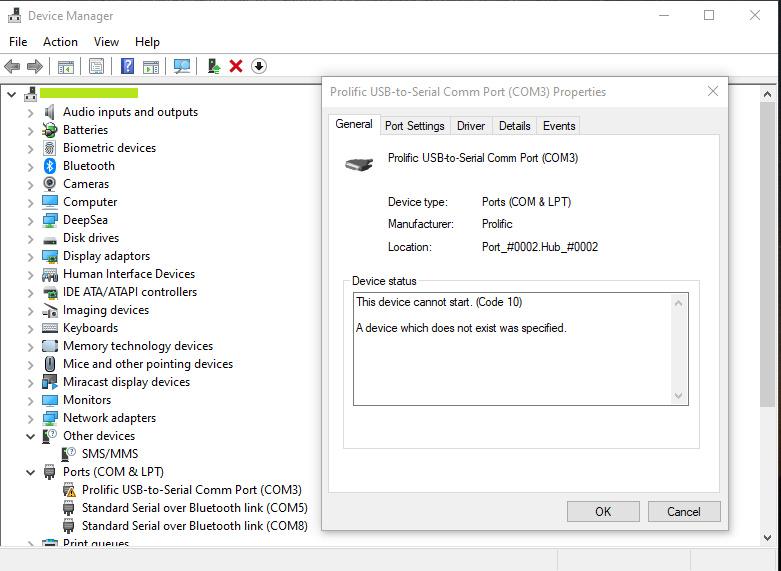 Upon further research, it became more clear that the main cause of this issue is the device you own contains a counterfeit "Prolific" chip (Chinese clones).  We are sure the Original Chips guys wont be reading this further. 
The counterfeit chip uses the same Vendor ID (VID_067B) and Product ID (PID_2303) and is just the replica of the Prolific chips.
So Prolific cleverly seems to come out and try to solve this intellectual infringement issue. They modified their newest drivers to render the counterfeit adapters unusable.
This decision in turn also renders all earlier adapters inoperative displaying the above-said messages and error codes. 
The latest Prolific 64-bit drivers that Microsoft supplies via Windows Update, Versions 3.4.67.325, 3.4.25.218, 2.1.51.238, 3.4.62.293, 3.3.5.122, 3.3.11.152, 3.3.17.203, 3.4.25.218, 3.4.31.231, 3.4.36.247 3.4.48.272, 3.4.62.293
3.4.67.325, 3.4.67.333, 3.6.78.350, 3.6.81.357, 3.8.3.0, 3.81.10.0, 3.8.12.0 and thereon will not work with most adapters old as well as new and therefore shows the generic "Code 10" error.
Some excerpts mentioned on the Prolific website is as below.
Warning Notice:
Please be warned that counterfeit (fake) PL-2303HX (Chip Rev A) USB to Serial Controller ICs using Prolific's trademark logo, brand name, and device drivers, were being sold in the China market. Counterfeit IC products show exactly the same outside chip markings but generally are of poor quality and causes Windows driver compatibility issues (Yellow Mark Error Code 10 in Device Manager). We issue this warning to all our customers and consumers to avoid confusion and false purchase.
Please be warned that selling counterfeit products are illegal and punishable by civil and criminal courts according to the trademark, copyright, and intellectual properties laws and regulations. Prolific will take proper and severe actions to cease and confiscate these counterfeit products. Prolific also prohibits the distribution of any PL-2303 drivers (including download links) without written permission from Prolific.
Prolific advises end-users to only purchase vendor branded cable products with company name contact information for service and support. Prolific does not sell cables with Prolific brand and packaging. In case you suspect a counterfeit chip inside, you may also contact Prolific to provide the vendor information.
But our journey does not stop over here. Still, there is hope at the end of the tunnel, stay Tuned.
There might be chances that your machine may not be showing any specific error, everything will be normal, But the Prolific USB cable may not be working at all. In this case if your cable was working perfectly before the updates, You can try to do a rollback of your Updates and work for the time being. This solution may work for some for a little time period as you cannot be out of your updates for a long period of time. Below we have a permanent solution, which fixed our issue and will fix yours too.
This fix can be applied to the below mentioned Prolific devices.
Prolific USB to Serial Adapter OR Prolific Compatible devices.
Prolific Chipset :

PL-2303 H
PL-2303  HXA
PL-2303  HXD
PL-2303  X
PL-2303  XA
PL-2303 EA
PL-2303  RA
PL-2303 SA
PL-2303  TA
PL-2303  TD 

Driver Version: 3.3.2.102 and above
Supported device ID and product strings: . VID_067B&PID_2303 for "Prolific USB-to-Serial Com Port"
The Final Step towards Success.
Download the specific driver installer below for your machine. Complete the installation with administrator privileges. To make things easier, We have all the 64 Bit, 32 Bit and 32 Bit Direct Install bundled together into a zip file. 
If you need to check what exact specs your machine has you can read our blog post here. 
Remove any plugged in Prolific USB Cables connected to your computer. 
Click on the Continue Button. 
This is it, it will set everything in proper order for your cables to work.
Reboot your computer once after all this and you should be good to go. 
Success at last!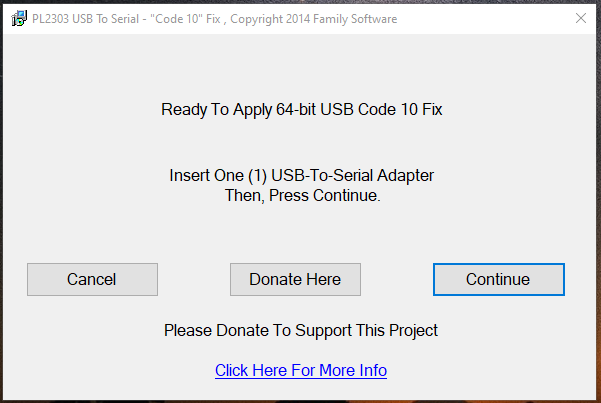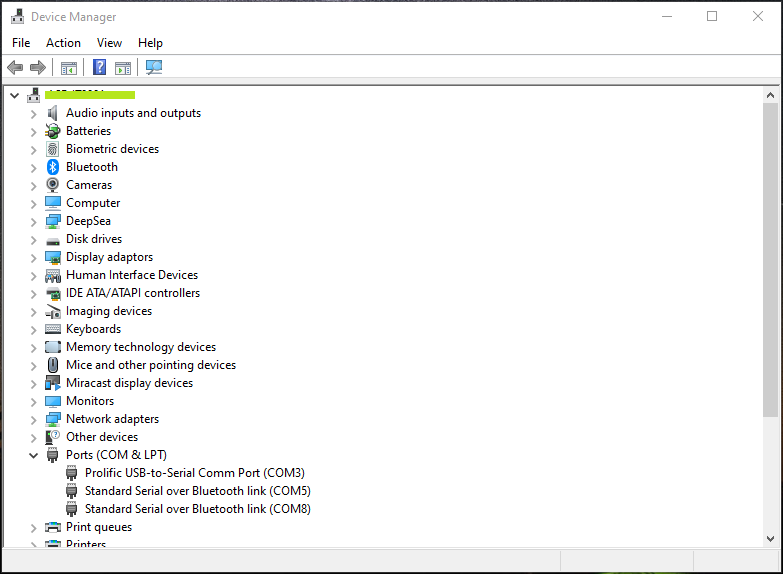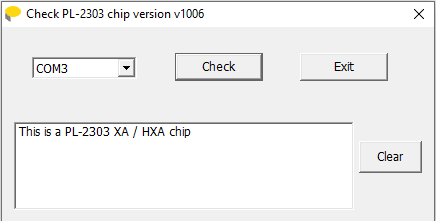 So let us finish this blog on a happier note and hope that your issue has been resolved to the fullest. Please let us know in the comments section if it worked out for you. If you found out a different solution please let us know and we will add it over here with your due credits.